News From Other Media
Nature comes to life on park safari
Nature comes to life on park safari
Saturday, 12th March 2016
By Ben Lerwill ( China Daily )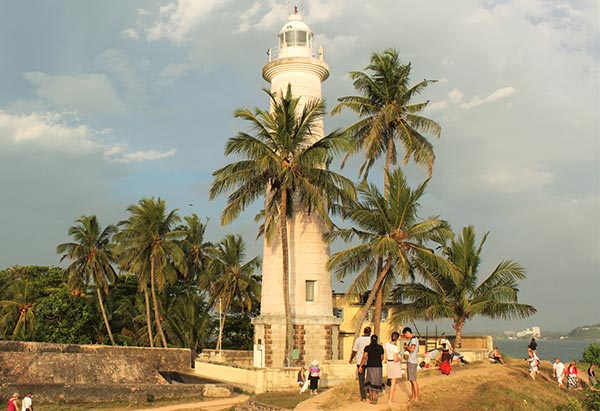 The Galle Clock Tower. [Photo by Ben Lerwill/China Daily]
Spoiler alert: I didn't see any leopards. There. I've said it. I'd come on safari to Yala, the SriLankan national park renowned for having the world's highest concentration of leopards, butdespite spending upward of 10 hours rumbling through the park's forests and grasslands in ajeep, I didn't see a single spotted big cat. Not a tail. Not a whisker. You'd think at least one ofthe creatures might have sensed a nice photo opportunity and padded into a clearing for afew seconds. No. Leopards are many things, I learned, but they're not marketing-savvy.
Here's another spoiler though: I was far less bothered than I thought I would be. Yala islocated on Sri Lanka's south coast, and it says much about the region that when you're here,details like a lack of obliging leopards seem fairly trivial. The coastline is lined with surfbeaches, palm trees and sun-splashed villages. Its main settlement, Galle, is a bona fideUNESCO-listed wonder. And Yala itself is nothing if not a busy place-the park teems with allsorts of other exotic inhabitants, from elephants, sloth bears and peacocks to jackals,crocodiles and sea eagles.
If you find yourself grumbling in Sri Lanka, in other words, you need to ask yourself somefairly serious questions. My southern explorations began in Galle, the colorful coastal citysettled by the Portuguese in 1589 and subsequently ruled by both the Dutch and the Britishbefore Sri Lanka regained its independence in 1948. The city gives rich insight into severalcenturies worth of history: Its best-known feature is its sturdily handsome colonial fort, whichthese days encloses an entire town's worth of streets, hotels, shophouses and restaurants.
"You should try to take a walk around the ramparts right about now," advised Yatawara, myjovial driver for the week, when we arrived in Galle just before sunset. "It's the best time ofday for it." I took his advice, flinging my bag into my hotel room and heading out into the warmevening air.
Yatawara knew what he was talking about. The high walls of the fort form a loop of aroundthree kilometers, and almost the entire length was astir with people-locals, tourists, couples,snake-charmers and selfie-snappers. Three sides of the fort look out onto the Indian Ocean(the fourth, incidentally, gives a fantastic view of Galle's famous cricket stadium) and thesunset panoramas, glowing crimson and orange in the dying light, were spectacular.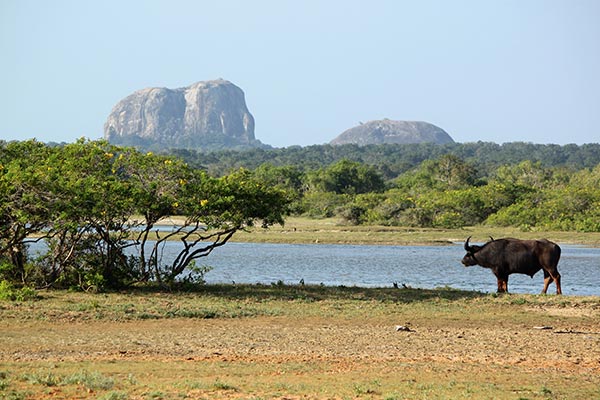 Yala. [Photo by Ben Lerwill/China Daily]
Lively scene
Galle Fort may be firmly rooted in the past, but the place was very much alive. Tuk-tuksputtered along the street, local children smacked footballs at each other, expats sipped oncocktails outside old-world hotels. I found a rooftop restaurant serving up classic vegetariancurries and wallowed in the luxury of having nothing to do but relax and eat. The food in SriLanka is often sensational, benefiting from the various culinary influences imported byeveryone from the Arabs and Malays to the Indians and Portuguese. Coconut milk, garlic,chilies and fish all figure prominently.
Just as Sri Lankan cuisine is diverse, so too is Sri Lankan religion. Theravada Buddhism isthe most prominent faith, with Hinduism, Christianity and Islam all figuring significantly too.And days later, as Yatawara and I moved gradually east towards Yala, the country's variedsights, smells and sounds made themselves felt-orange-robed monks stood outsideroadside temples, fishermen perched on wooden stilts offshore in search of a few rupees,families wandered through beach settlements of surf shacks and laid-back restaurants.
Things haven't always been so relaxed, of course. Sri Lanka has borne witness to some torridevents in recent decades. Not only was it sucked into a long and brutal civil war, a conflictwhich finally halted in 2009, it was also one of the countries worst hit by the devastatingBoxing Day tsunami of 2004. The south coast was particularly tragically affected, although theanimal inhabitants of Yala-which sits adjacent to the ocean shoreline-managed a near-miraculous collective escape.
"It seems as though they sensed the tsunami before it arrived," explained Sarath, a safariguide at the national park. "The waters came inland for more than a kilometer, but when theyreceded we found just a tiny number of animal carcasses. They had all headed away from thecoast before it hit."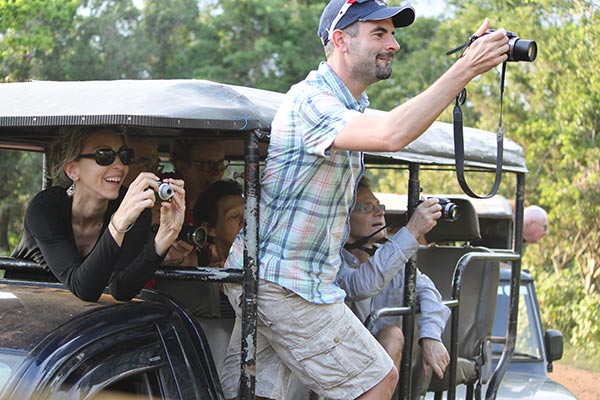 Tourists taking pictures in a jeep in Yala. [Photo by Ben Lerwill/China Daily]
Close to nature
Yala is a special place. Covering an area of almost one thousand square kilometers, the parkis the most visited nature reserve in the country. Its landscapes include dense jungle, lowwetland and open vistas of rocky outcrops. I was staying at Chena Huts, a new upmarketretreat situated in the buffer zone on the park outskirts. I had an inkling my stay would bememorable when I opened my curtains on the first morning and saw a peacock strollingaround my plunge pool. Half an hour later, a wild boar wandered past while I was havingbreakfast. It was that kind of place.
The main appeal of being here, of course, was the chance to take two daily game drives.Each time we entered the park, different wildlife mini-dramas unfolded. There's a tendency inYala for jeeps to cluster in the areas where leopards are most likely to appear, althoughfrankly it rather takes the gloss off a safari when you're bumper to bumper with 15 othervehicles. At Sarath's recommendation our jeep instead made an effort to steer clear of thecrowds.
It was a fine decision. One afternoon we found a secluded waterhole and looked on as storksstepped past crocodiles and buffalo lazed under ironwood trees. On another we came acrossan entire family of elephants, the youngest of them vigorously tearing branches and foliagefrom the bush. The next morning we watched a crested hawk-eagle devouring a fat monitorlizard, then rounded the corner to see two competing peacocks strutting around a lonepeahen, tail-feathers raised with boastful importance. Each drive produced something new.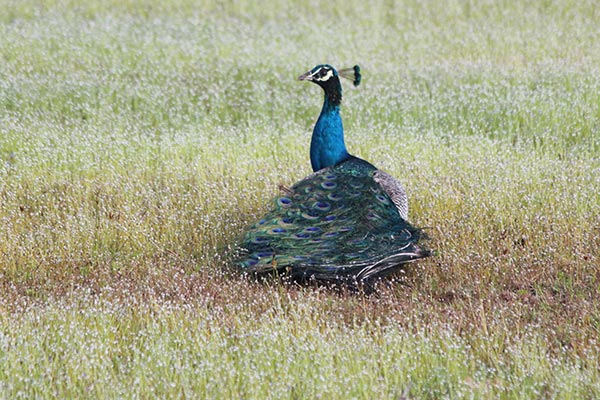 Peacock in Yala, the Sri Lankan national park. [Photo by Ben Lerwill/China Daily]
Game viewing
Leopards will always be Yala's poster-boys but, as previously established, in my case theyremained elusive. For me, the creatures that will stick in the mind are instead the park'selephants. I spotted at least two on every game drive, and they always made for an imposingsight. Smaller than their African cousins, they nevertheless loomed like gray giants in theforest, impossibly solid and impossibly powerful-and impossibly hungry, for that matter.
The animal itself occupies a special place in Sri Lankan culture. When an especiallyrenowned elephant passed away in 1998-a male known as Maligawa Tusker Raja-thegovernment declared an official day of national mourning. The country clearly recognizes thevalue of its wildlife in tourism terms too, although it would be heartening to see some sort ofregulation in place to prevent Yala's main game-viewing area becoming too swamped withjeeps in years to come.
Sri Lanka is a hugely rewarding travel destination. The pace of life, on the whole, is heavilyconducive to relaxation, and the island's multi-layered blend of different creeds and cultureshelps to create a visitor-friendly environment. If you're looking for a fine introduction to theplace, you could do far worse than combining Galle and Yala. And if you see a leopard ortwo? Consider it a bonus.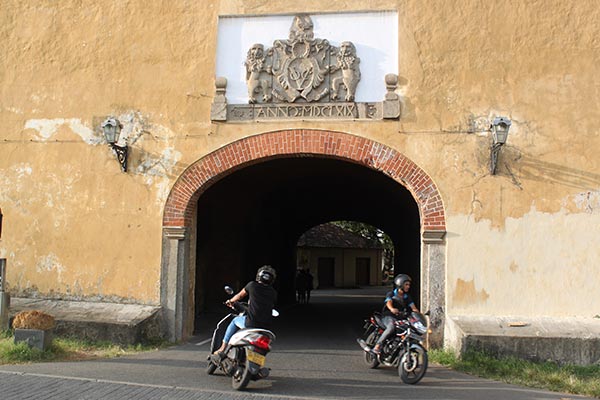 Galle's old town wall. [Photo by Ben Lerwill/China Daily]
Six other places not to miss in Sri Lanka
1 Kandy: Sri Lanka's second city sits "upcountry", surrounded by hills in the center of theisland and providing a vivid counterpoint to the sand-fringed resorts of the coast. It's home toa number of absorbing sights, not least the Temple of the Tooth, the most significant Buddhistshrine on the entire island. The city's main landmark is Kiri Muhuda, the lake at its center, andit's possible to take short pleasure cruises onto the water. But perhaps Kandy's greatest gift isits role as a gateway to the dramatic scenery and tea plantations of the so-called "hillcountry", the most archetypal of all Sri Lankan landscapes.
2 Wilpattu National Park: Set in the northwest of the island, this is the largest of Sri Lanka'snational parks. Before the civil war made the region dangerous, it was also its most visited.Today its charm lies in the fact that it draws relatively few visitors, while also offering excellentopportunities to spot leopards and sloth bears. The birdlife, as elsewhere in Sri Lanka, isworld-class too. The park takes its name from the picturesque willus-natural depressionsfilled with rainwater-found across its land. It's also a good spot for seeing elephants, andthere's even accommodation within the park.
3 Colombo: The national capital is a busy city, with around 3 million people calling it home. It'snot an immediately lovable place, but as Sri Lanka's only functioning international airport sitson its outskirts, the city gets incorporated into many itineraries. Its most obvious attractions forvisitors are the buzzing bazaar quarter referred to as The Pettah-most of the goods on saleare practical items rather than souvenirs, but it still makes for a highly atmospheric area-andthe historical district known as Fort, where you'll find a good selection of museums andcolonial buildings.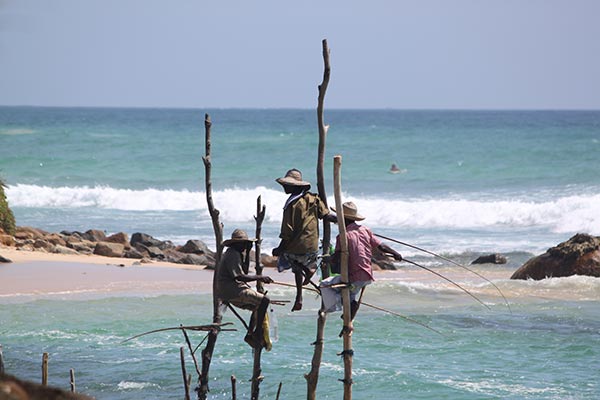 Fishermen standing on stilts in Galle's outskirts. [Photo by Ben Lerwill/China Daily]
4 Kataragama: If you're looking to get an insight into just how deep religion runs in Sri Lanka,this is the place to come. The small southern town is considered a profoundly importantspiritual site not just by Buddhists but by Hindus and Muslims too, and is best experienced inthe evening, when the main puja (show of reverence) takes place. Most of the action centerson the area known as The Sacred Precinct, where musicians, dancers and pilgrims combineto create a heady scene of devotion. It's worth staying the night if you want to enjoy the pujawithout having to rush off.
5 Jaffna and the far north: The vagaries of the civil war were felt fiercely in the far north, whichis still home to the majority of Sri Lanka's Tamil population. These days the area can bevisited fairly easily, and holds rich rewards for those in search of a cultural contrast to the restof the island. The largest town is Jaffna, which sits on a peninsula at the uppermost tip of thecountry and has a thick Indian influence. Thanks to improvements in the rail network, it's nowpossible to travel here by train direct from Colombo.
6 Unawatuna: Hugely popular with independent travellers, Unawatuna sits on the south coastclose to Galle and has made its name as somewhere to surf and unwind-you'll findeverything from snorkelling and yoga to diving and nightclubbing on offer. Its postcard-friendlygood looks are helped by a scattering of green rocky outcrops offshore, and there's a vastselection of different places to eat and drink, ranging from rice-and-curry houses and seafoodrestaurants to Italian bistros. The resort sits just 5 kilometers from Galle itself.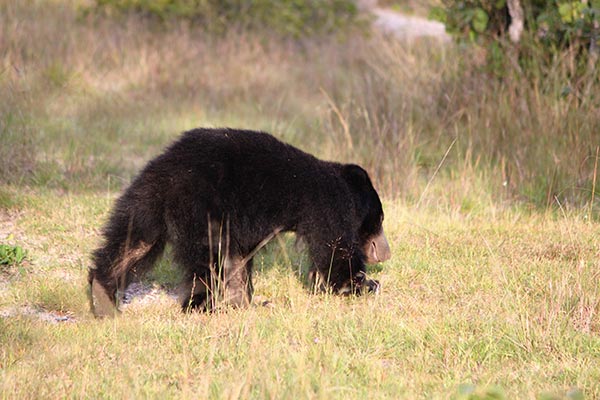 Sloth bear. [Photo by Ben Lerwill/China Daily]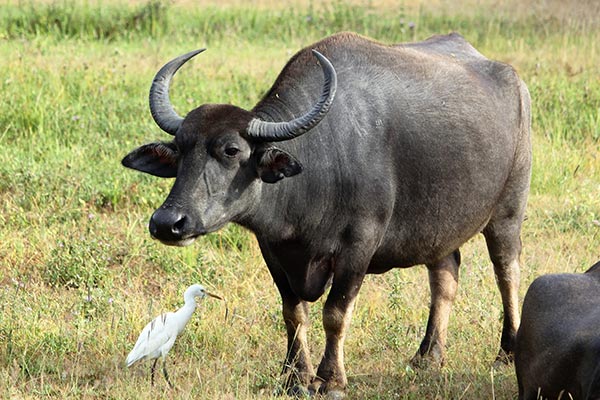 Buffalo. [Photo by Ben Lerwill/China Daily]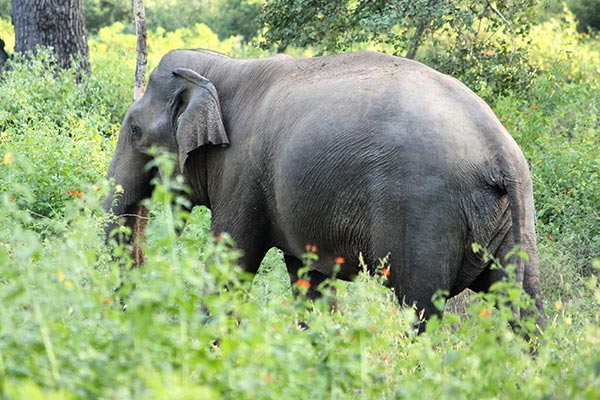 Elephant. [Photo by Ben Lerwill/China Daily]
From : http://www.chinadaily.com.cn/weekend/2016-03/12/content_23836086.htm